Market volatility and the spike in risk aversion have continued to benefit Gold, while weighing on Oil prices. Bullion is still flirting with the $2,000 mark.
The Fed may have gone ahead with another 25 basis point hike, but that only added to fear that aggressive rate hikes will see the global economy sliding into recession. Oil prices are struggling in this climate, especially as China's recovery has remained subdued so far.
Oil prices managed a weekly gain last week but remained capped by ongoing volatility in markets as central banks continued to hike rates. Investors fear that officials are prioritizing price stability over financial stability and that monetary conditions will tighten disproportionately, curtailing world growth and capping demand. Bloomberg flagged that money managers slashed net-long positions in Brent and WTI and boosted outright wagers against both benchmarks while cutting longs. Total open interest for UKOIL hit the highest since February of 2022 on Thursday, according to Bloomberg.
For now, supply continues to outstrip demand, despite Russia's output reduction, which has been extended to the end of June. This reduction has yet to impact global supplies, and Bloomberg reported that Russian shipments continued to decline slightly but remained above 3 million a day. Indeed, any decline in production will initially be offset by reduced demand from Russia's refineries, during a period of seasonal maintenance. On top of this, official data from the US last week also showed an unexpected rise in US crude inventories of 1.1 million barrels, which was the largest since May of 2021. Large builds on the Gulf coast outweighed a decline at the Cushing Oklahoma storage hub.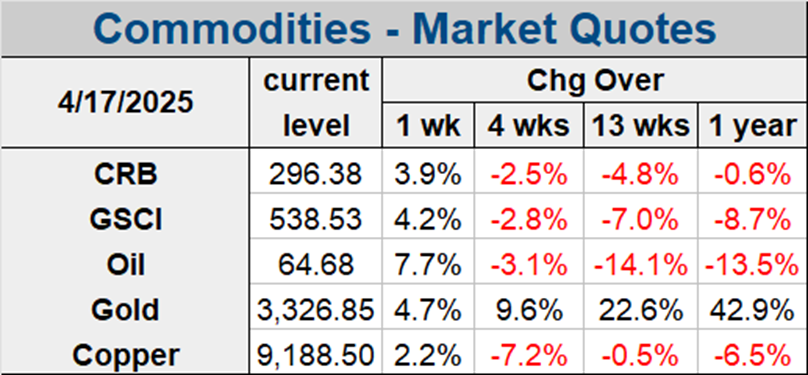 As long as China's recovery continues as expected, demand should start to rise relative to supply in the second half of the year. Activity hasn't bounced back from Covid lockdowns as fast as hoped at one point, but China's top energy producer, China National Petroleum Corp, still suggested in its annual report that oil demand in China may surge 5.1% this year, while gas demand was predicted to rise 5% this year.
Gold has corrected to $1944 per ounce at the start of week as the US Dollar strengthened and haven demand faded – at least for now. Central banks and wider market conditions remain in focus and the precious metal is trading at high levels.
Demand for Gold could flirt again with the $2,000 mark amid ongoing market volatility. Bank angst continued to linger, and the round of central bank hikes fueled concerns that aggressive tightening could hurt the global economy. The precious metal is picking up more haven flows in the current climate of uncertainty, and with investors also still worried about the health of US regional banks, Gold has the edge over the Dollar as a store of value.
Click here to access our Economic Calendar
Andria Pichidi
Market Analyst
Disclaimer: This material is provided as a general marketing communication for information purposes only and does not constitute an independent investment research. Nothing in this communication contains, or should be considered as containing, an investment advice or an investment recommendation or a solicitation for the purpose of buying or selling of any financial instrument. All information provided is gathered from reputable sources and any information containing an indication of past performance is not a guarantee or reliable indicator of future performance. Users acknowledge that any investment in Leveraged Products is characterized by a certain degree of uncertainty and that any investment of this nature involves a high level of risk for which the users are solely responsible and liable. We assume no liability for any loss arising from any investment made based on the information provided in this communication. This communication must not be reproduced or further distributed without our prior written permission.